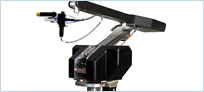 RES has a highly specialized personnel, that has been developing
and producing electronics of control for the painting robots with
5 or 6 axis, carousel or with a fixed platform for 12 years. By different
versions of Iride system,RES proposed a completly product of painting
robot, to give the best solution in every working area.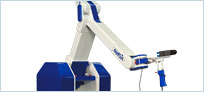 Colorex and Colorsix are anthropomorphic direct learning robots meeting
the latest regulations concerning places of work with a potentially blasting
environment. They can be employed for the liquid and powder varnishing
of wood, plastic, metal ceramic components and particularly with electrostatic
system. The machines have been designed with antideflagrating protections.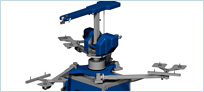 Spray-Teck is a new anthropomorphic selflearning robot, projected to spray
by liquid and powder paint. With Spray-Teck you can paint wood, metallic,
plartic and ceramic components. It can be used with fixe base, carousel and
tracking system and it has five or six axis. The machine has been designed
to be used on Zone 2 of the classification working areas.